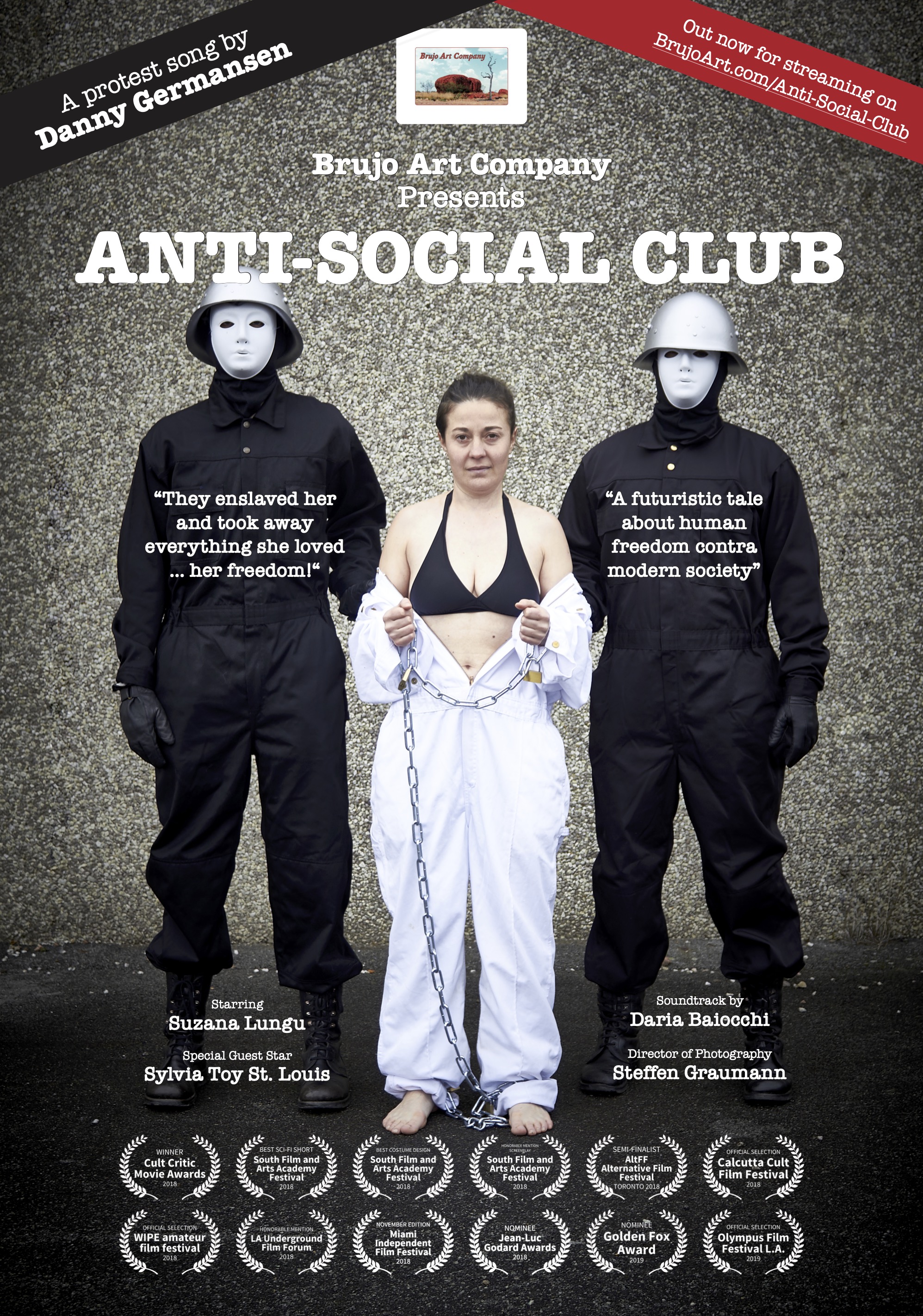 WATCH THE TRAILER HERE:

WATCH THE FULL FILM ANTI-SOCIAL CLUB HERE:
ANTI-SOCIAL CLUB
Info: / Duration 24 min / Language English / Color + Black & White / Aspect Ratio 16:9 / Digital 4K / Year 2018 /
With Subtitles in these languages:
English, Spanish, Italian, French, Portuguese, German, Polish, Dutch. Russian, Chinese, Japanese, Danish, Swedish, Finnish, Romanian, Hungarian, Bulgarian, Greek, Czech, Slovenian, Slovak, Latvia, Lithuania, Estonian.
– To Select Subtitles click on the CC button in the player.
PRESSKIT FOR ANTI-SOCIAL CLUBFILM MECHANDISE SHOP ON REDBBUBLE
Are you from a festival, gallery, museum, tv station, curator, press or other and want more information? Contact me by clicking here Mail to Danny and I will be happy to assist you.
FESTIVALS & RECOGNITION:
WORLD PREMIER AND SHOWING EXCLUSIVE AT MAD GALLERY MILANO FOR 2018 : Link to Gallery.
ANTI-SOCIAL CLUB was a part of the official selection for CALCUTTA INTERNATIONAL CULT FILM FESTIVAL 2018. Link to Festival.
Nominated as Best Sci-Fi/Fantasy short film at ALTERNATIVE FILM FESTIVAL, in TORONTO 2018. Link to Festival.
Won the prices of Best Sci-Fi Short and Best Costume Design. Plus a Honorable mention for the Screenplay at SOUTH FILM and ARTS ACADEMY FESTIVAL, in CHILE.  July 2018. .Link to Festival.
Got a Honorable Mention from LA UNDERGROUND FILM FORUM 2018. Link to Festival.
Official Selection of WIPE Amateur Film Festival, in Berlin 2018. Link to Festival.
Winner Best Amateur Film at CULT CRITIC MOVIE AWRDS, August 2018 .Link to Festival.
Nominated for the prestigious annual JEAN LUC GODARD AWARD 2018. Link to Festival.
Selected for the monthly edition of November 2018 at MIAMI INDEPENDENT FILM FESTIVAL. Link to Festival 
Norminated for an GOLDEN FOX AWARD in CALCUTTA, India – January 2019. Link to Festival
Official Selection and Nominated at Olympus Film Festival Los Angeles 2019. Link to Festival
CULT CRITIC FILM MAGAZINE Wrote an review of ANTI-SOCIAL CLUB : Link to Review.
Screening at WIPE Amateur Film Festival in Moscow 2019. The 15-16 June 2019 in Moscow, Russia. Link to Festival
Screening the 12-12-2019 at KINO KLUB SPLIT in Croatia, Curated by Darko Duilo
Synopsis:
"A FUTURISTIC TALE ABOUT HUMAN FREEDOM CONTRA MODERN SOCIETY"
"THE ENSLAVED HER AND TOOK AWAY EVERYTHING SHE LOVED … HER FREEDOM"
"INSPIRED BY THE LIFE OF AND TALKS WITH SUZANA LUNGU"
Anti-Social Club is a 24min art-house film about a young woman named Suzana who is living emancipated in nature but then is being forced by norms and rules of society to assimilate into to being a good, productive and law obedient citizen and contribute to society and the economics of the state, thereby becoming a slave of the system.
Artist Statement by Danny Germansen:
The film is based on the life of and talks with SUZANA LUNGU .
Its a futuristic tale ala GEORGE ORWELL´S 1984.
The idea sprung out from Suzana telling me about her life in Romania. Where she would work in her garden in her bikini taking care of her tomato plants and other plants that she will go to the market to sell. I talked to Suzana about having that kind of freedom where you live in the nature and are your own boss. That you don´t have to be a part of the system or society, but be more or less self-sufficient by living of the land and live a life outside the norms of society without all the martialist things people of the world need today.
Suzana made up the name ANTI-SOCIAL CLUB as a joke that she wanted to make a club for herself to be anti-social in.
So one night I was laying in my bed after a couple hours of sleep, not fully awake, but half a sleep, I suddenly had a picture in my mind. It was very clearly. It pictured Suzana in her bikini – Sitting on her knees in a garden working in the soil and the title ANTI-SOCIAL CLUB was written on top of the picture. From there I developed the story about human freedom contra the state/system/society and it stood very clear to me after having seen that picture in my mind how exactly the film should be written and produced.
Cast & Crew:
SUZANA LUNGU as Herself
KENNETH MADSEN as The Radio Host
RIKKE SYLVESTERSEN as Girlfriend
MIKKEL W. KNUDSEN as Authority #1
KEVIN HANSEN LEVANDOWSKI as Authority #2
TABITA FYHN JACOBSEN as Prisoner
THORBJØRN OVERGAARD SCHUNCK as Judge
Special Guest Star:
SYLVIA TOY ST. LOUIS as Brainwash Machine
Director of Photography : STEFFEN GRAUMANN
Original Music Soundtrack by DARIA BAIOCCHI
Sound & Light : STEFFEN GRAUMANN
Color Grading & Sound Mastering : STEFFEN GRAUMANN
Written / Produced / Directed / Edited by DANNY GERMANSEN